A delightful mango shake is ideal during peak mango season. I'm sharing two simple and delicious recipes: one with dairy and another vegan version using coconut milk.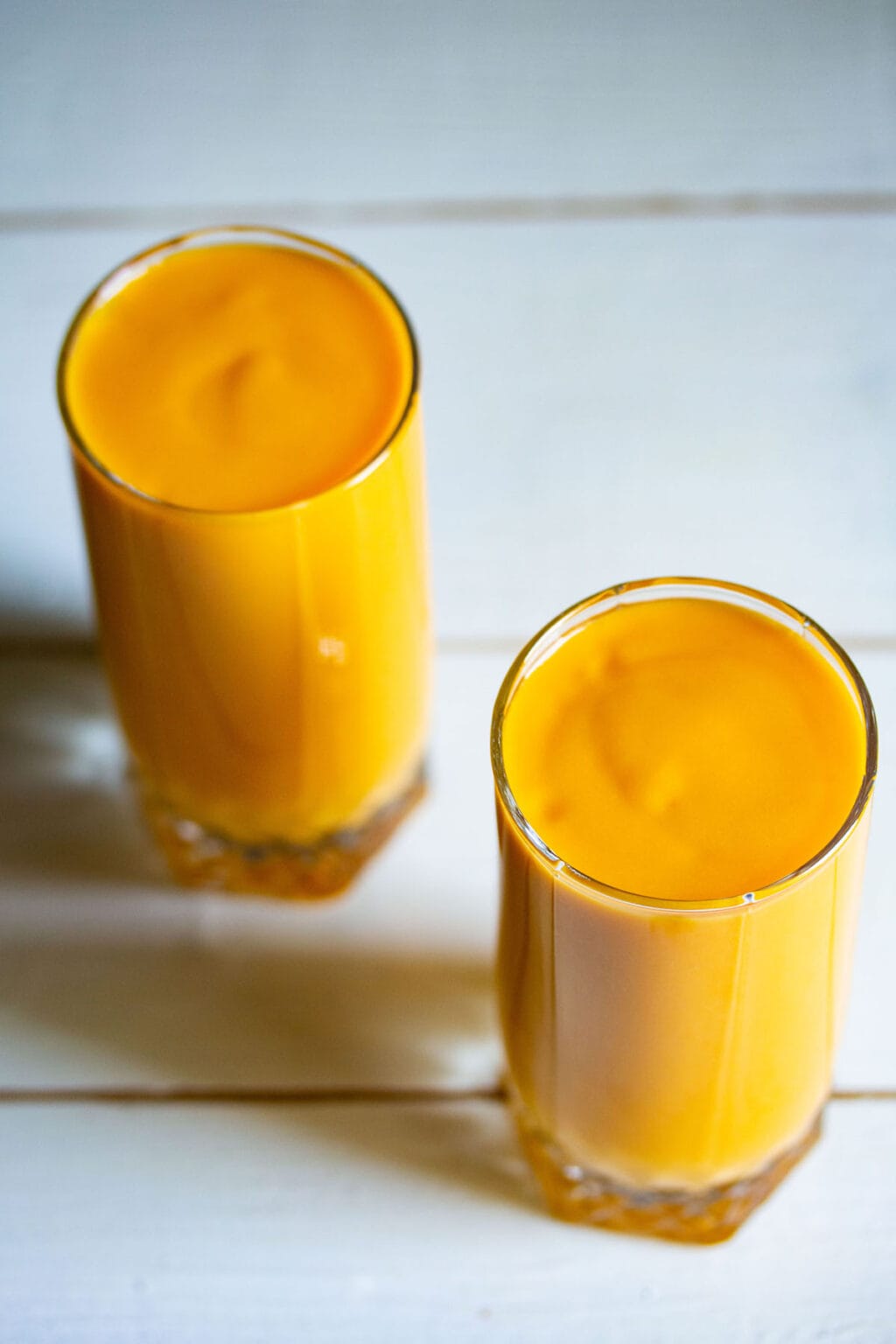 About These Mango Shake Recipes
The mango shake recipes listed below result in wonderful, creamy smoothies. I frequently prepare these throughout the heat as a cooling breakfast, snack, or light dessert. They are also a better option than other sugary drinks because they are packed with nutrients in addition to having a fantastically delightful fresh flavor.
Here you'll find simple instructions for making a mango milkshake in one of two ways as a regular dairy milkshake or as a coconut milk-based vegan milkshake. Both are vegetarian and highlight ripe mangoes. They make a refreshing, satisfying drink to rejuvenate your body.
Mangoes, known as the 'king of fruits' for their popularity, try these mango milkshake recipes to understand their beloved status!
Mango Milkshake Recipe
Rinse and dry two ripe, sweet medium-sized mangoes. Peel, chop, and remove the stones. Place the chopped mangoes in a blender.
Pour 1.5 cups of whole milk, whether cold or at room temperature. Optionally, add 1 to 3 tablespoons of sugar. I didn't add sugar as the Alphonso mangoes I used were naturally sweet.
Add 2-3 ice cubes, if desired.
Blend until smooth. Ensure no mango chunks remain for a thick milkshake. If you want to make it thinner, you can add more milk.
Taste the mango milkshake. If it's not sweet enough, add 1 to 3 tablespoons of sugar and blend until the sugar dissolves.
You can use 1 to 2 tablespoons of honey, palm sugar, coconut sugar, brown sugar, or jaggery for the sugar.
Pour mango milkshake into glasses and serve right away. You can also add chopped nuts, whipped cream, or a scoop of vanilla or mango ice cream on top if you like.
Vegan Mango Shake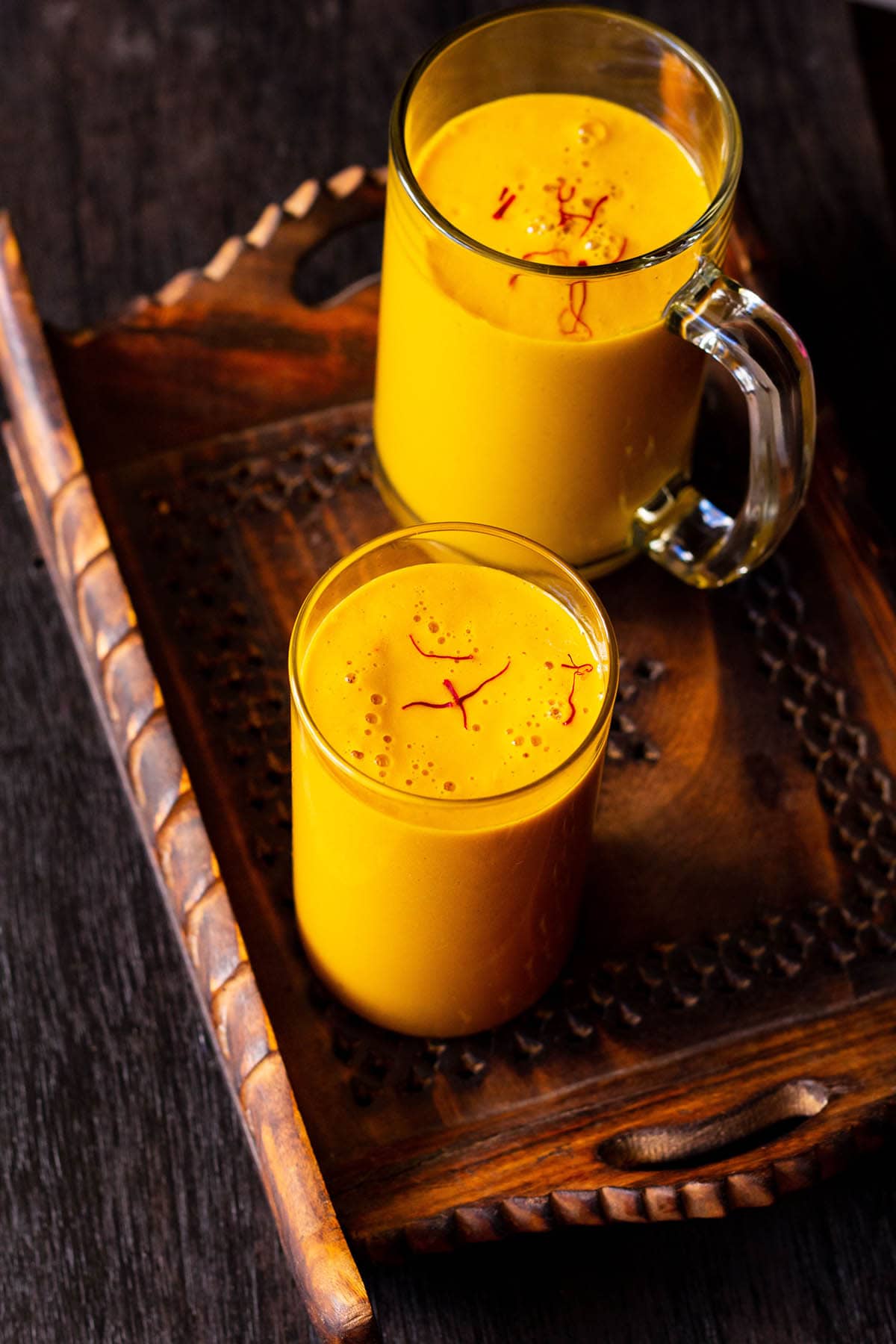 Start by washing and peeling two medium-sized mangoes. Chop them and place in a blender. Optionally, include a pinch of saffron strands for a delightful flavor pairing of saffron and mango.
No need for flavorings, but you can add vanilla extract, cinnamon, or cardamom for extra taste if you prefer.
Add 2 cups of coconut milk. Alternatively, you can use almond, oats, soy, or cashew milk.
If you've used thick coconut milk, add water or ice cubes as shown in the next step.
Include 3–4 ice cubes. If you'd like, you can also add some sugar or another sweetener of your choice.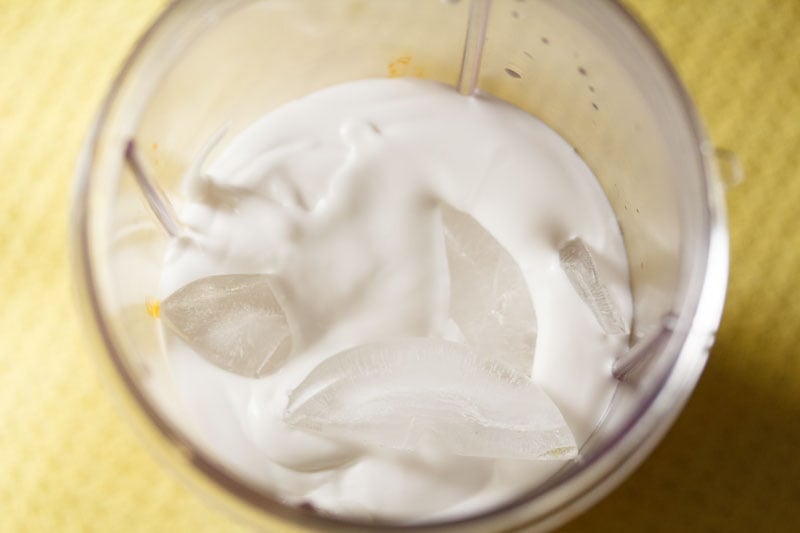 Blend until smooth. If it's too thick, add water and blend again.
Pour vegan mango milkshake into tall glasses and serve immediately. Optionally, garnish with chopped cashews, pistachios, or almonds.
Remember, the thickness and color of your mango milkshake depend on the type of mango used. Alphonso mangoes result in a thick, vibrant golden yellow shake, while other varieties produce a juicy, pulpy, and light to bright yellow hue.
Variations of Mango Shake
Create mango milkshakes by blending ripe mangoes with milk. Customize with various ingredients.
Besides the main ingredients in the complete recipe, you can add various elements to alter the shake's texture and flavor.
Cream – Adding whipping cream to a shake makes it thicker and creamier. Use 1/4 cup heavy cream with milk when blending. Also, consider topping the milkshake with whipped cream before serving.
Whole milk – Whole milk provides a rich taste, but you can use low-fat or skimmed milk if you prefer.
Nut milk – I prefer using almond or coconut milk for the vegan mango shake, but any plant-based milk works too, such as cashew or soy milk.
Ice cream – Enhance mango shake with vanilla or mango ice cream for a thick, creamy texture. Use 1-2 scoops; these ice cream flavors work best.
Ice cubes – To make the milkshake thinner, use 6-7 ice cubes or fewer. I usually blend with 3-4 ice cubes for a cold serving.
Expert Tips
Mangoes
Make sure to pick ripe mangoes when shopping. Any mango variety can be utilised, although I advise against using any that have an excessive amount of fibrous flesh. Choose mangoes that are sweeter, more juicy, and easier to peel. Less additional sugar will be required and, as a result, your shake will be healthier if the mango is sweeter.
I prefer Alphonso mangoes, but any sweet, smooth-pulp mango will work. Avoid sour or semi-sweet ones to prevent stomach issues and milk curdling.
Milk
You can use whole milk, low-fat, skim milk, or vegan-friendly alternatives like coconut, almond, cashew, soy, or oat milk.
Sweeteners
If your mangoes are very sweet, you don't need to add extra sugar to the milkshake. If they're not sweet enough, you can add cane sugar, palm sugar, jaggery, maple syrup, or honey while blending.
Taste the mango milkshake before adding sugar. Increase sweetness only if needed. It's good to reduce sugar or use healthier options whenever possible.
Proportions
Adjust mango-to-milk ratio for desired shake texture and taste. Increase mango for a fruity, thick shake; more milk for creamier, milkshake-like flavor.
Flavorings
No need for extra ingredients in these mango shake recipes. Mango flavor is the star. For a special touch, consider adding a pinch of cardamom or cinnamon powder, saffron strands, or a dash of nutmeg or vanilla.
You can add these ingredients while blending the mango shake or sprinkle them on top as a garnish. If you're using cardamom powder, mix it with the mango pulp initially to ensure it blends smoothly in the shake.
Canned Mango Pulp
When fresh mangoes are unavailable, canned mango pulp is a great alternative. I freeze mango pulp for later use in various recipes, including this milkshake.
This allows us to enjoy mango-based dishes even when mangoes are out of season. In these mango shake recipes, substitute 1 to 1.25 cups of mango pulp for fresh chopped mango.
FAQs
CAN I MAKE THIS DRINK AHEAD?

Yes, you can make the drink ahead and refrigerate for 3-5 days. Add toppings before serving.
Is drinking mango shake healthy?

A ripe mango blended with milk is delicious, nutritious, and can have various benefits such as calming vata and pitta, acting as a tonic, aphrodisiac, and even improving complexion. It is sweet and cooling in nature.
What is benefit of mango shake?

Mango milkshake is rich in essential nutrients like iron, protein, and beta-carotene. Iron helps reduce muscle cramps, anxiety, stress, and heart issues. Mango also provides vitamin A, promoting healthy eyes and skin.
Recipe Card
Mango Shake
A delightful mango shake is ideal during peak mango season. I'm sharing two simple and delicious recipes: one with dairy and another vegan version using coconut milk.
Ingredients
For Mango Milkshake
2 Mangoes – medium sized alphonso mangoes or any sweet variety

1.5 cups milk or ¾ cup milk + ¾ cup water – cold or at room temperature

3 to 4 ice cubes – optional

2 tbsp sugar or honey or palm sugar, coconut sugar – optional
For Vegan Mango Shake
2 mangoes – medium sized alphonso mangoes or any sweet variety

2

cups

Coconut milk (thick or lite) or almond milk or cashew milk

2

tbsp

Raw sugar or maple syrup, coconut sugar, add as required – optional

3 to 4

Ice cubes – optional

10 to 12

Saffron strands – optional

1 to 2

tbsp

Chopped cashews almonds, pistachios to garnish – optional
Instructions
Making Mango Milkshake
Rinse and pat dry the mangoes. Peel and chop them. Add chopped mangoes in a blender jar.

Add milk and the ice cubes (optional).

Blend to a smooth consistency. Check the consistency and if you find the shake too thick, add some milk and blend again.

Serve mango shake straight away.
Making Vegan Mango Shake
Rinse the mangoes and pat dry them with a clean kitchen towel. Peel and chop roughly.

Add the chopped mangoes and coconut milk in a blender. Optionally add the sweeteners like cane sugar or palm sugar, coconut sugar or jaggery according to your taste and considering the sweetness of mangoes.

Add saffron or your preferred choice of flavorings like ground cinnamon or cardamom powder or vanilla. Choose to omit any flavorings if you like.

You can add a few ice cubes also at this point or you can add the ice cubes while serving the mango shake.

Blend all the ingredients until smooth.

If the consistency is too thick too your liking, add some water. Blend again.

Pour in glasses and top with some chopped nuts. Serve vegan mango shake with a few saffron strands as a garnish (optional).